Ontime at Mahavilachchiya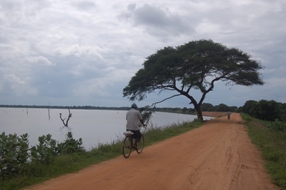 We established the first ever rural BPO in Sri Lanka in Mahavilachchiya, a remote village in the outskirts of the Wilpattu National Park, in the NW of the country.
This village had a thriving IT and English teaching academy (Horizon Lanka Foundation) and five State schools (Vidyalayas) that offer primary and secondary education.
Majority of the students stopped their formal education without entering the University and remained in the village with limited employment opportunities.Others drifted to cities looking for jobs. This location ideally met our criteria for establishing a BPO.
FARO selected two youth leaders from the village, on the recommendations of the Horizon Lanka Foundation, to lead the initiative. With the assistance of our partners DDD and ICTA the two youth were sent to Laos and India for a six month training program on BPO work and management. On their return, FARO assisted them to form a limited liability company which was named 'Ontime', reflecting their ambitions of service. FARO partnered with the John Keells Group to provide them with the outsourcing work and necessary training. ICTA provided the funding for infrastructure needs and 'Ontime' rented space from Horizon Lanka to set up its operations. This was back in 2007.
Over the past two years 'Ontime' has grown in maturity, size and profitability, after breaking even within the first six months of its operations. 'Ontime' now has its own management team. It's now in its eighth year with monthly revenues of LKR 200,000 and the number of seats getting close to the optimum level of twenty. The John Keells Group has increased the work load given to Ontime significantly. For more information visit: www.ontimetechnologies.org.
The VP and COO of InfoMate (JKH),Mr Jehan Perimpanayagam had this to say about the performance of Ontime's owner associates "I am much impressed with the performance of Ontime Associates. They are keen to learn and have shown great aptitude. The accounting system used by Ontime Associates is SAP, perhaps the most famous ERP system in the world. They have demonstrated great skill and talent in working with SAP and also adapting to the world class systems and processes employed by InfoMate and the John Keells Group. The productivity of the team has been truly outstanding as is their very positive "yes we can" attitude.
'Ontime' has clearly demonstrated the viability of our BPO business model to provide sustainable career opportunities to rural youth in remote villages, without them having to migrate to the city. It has also shown how a rural agrarian economy could be transformed, over time, to a modern day IT driven economy that could provide a multitude of services to global clients.
For more information visit its website www.ontimetechnologies.org.